To support teams and offices across Minnesota in building the strong partnerships that are critical to a person-centered employment supports system, DHS and DEED are partnering with the Improve Group to offer regional collaboration meetings. These meetings will help local areas jump start or expand existing collaboration efforts to strengthen their partnerships.   
The first of the regional meetings is a launch event that will bring together people who are leading collaboration efforts from key partners to share, learn and discuss ways to increase E1MN collaboration across agencies. You're invited to attend a launch event if you're a leader in employment collaboration (whether manager, supervisor, team lead or other) from any of the following groups:  
Vocational Rehabilitation Services/State Services for the Blind (VRS/SSB) 

Lead agencies

Employment service providers(VRS/SSB and waiver)

 
A two-hour launch event for each region will take place in November or early December, with subsequent two-hour meetings in February and June. The meetings will take place online via Zoom. Recordings will be available after each meeting.
Save the date and time for your regional launch event!
Register here to attend the launch event for your region. If your organization works across multiple regions, consider sending lead staff in each region to the selected launch meeting.  
Region 1: Northwest Minnesota | 11/9 from 1 to 3 pm
Counties and nations: Becker, Beltrami, Cass, Clay, Clearwater, Douglas, Grant, Hubbard, Kittson, Lake of the Woods, Leech Lake Band of Ojibwe, Mahnomen, Marshall, Morrison, Norman, Otter Tail, Pennington, Polk, Red Lake,Red Lake Band of Chippewa, Roseau, Todd, Traverse, Wadena, White Earth Nation, Wilkin
Region 2: Northeast Minnesota | 11/10 from 9 to 11 am
Counties and nations: Aitkin, Bois Forte Band of Chippewa, Carlton, Chisago, Cook, Crow Wing, Fond du Lac Band of Lake Superior Chippewa, Grand Portage Chippewa, Isanti, Itasca, Kanabec, Koochiching, Lake, Pine, Mille Lacs, Mille Lacs Band of Ojibwe, Saint Louis
Region 3: Southwest Minnesota | 11/16 from 9 to 11 am
Counties and nations: Benton, Big Stone, Blue Earth, Brown, Chippewa, Cottonwood, Faribault, Jackson, Kandiyohi, Lac Qui Parle, Lincoln, Lower Sioux Indian Community, Lyon, Martin, McLeod, Meeker, Murray, Nicollet, Nobles, Sherburne, Sibley, Stearns, Stevens, Swift, Pipestone, Pope, Redwood, Renville, Rock, Upper Sioux Community, Watonwan, Yellow Medicine
Region 4: Southeast Minnesota | 11/30 from 9 to 11 am
Counties and nations: Dodge, Fillmore, Freeborn, Goodhue, Houston, Le Sueur, Mower, Olmsted, Prairie Island Indian Community, Steele, Rice, Wabasha, Waseca, Winona
Region 5: Metro Minnesota | 12/1 from 1 to 3 pm
Counties and nations: Anoka, Carver, Dakota, Hennepin, Ramsey, Scott, Shakopee Mdewakanton Sioux Community, Washington, Wright
Regional launch events will be hosted and facilitated by the Improve Group. ASL interpreters and CART captioning services will be available for each meeting. If you have other accommodation needs, contact Dan Goldstein at dang@theimprovegroup.com or 651-447-5548.  
Region map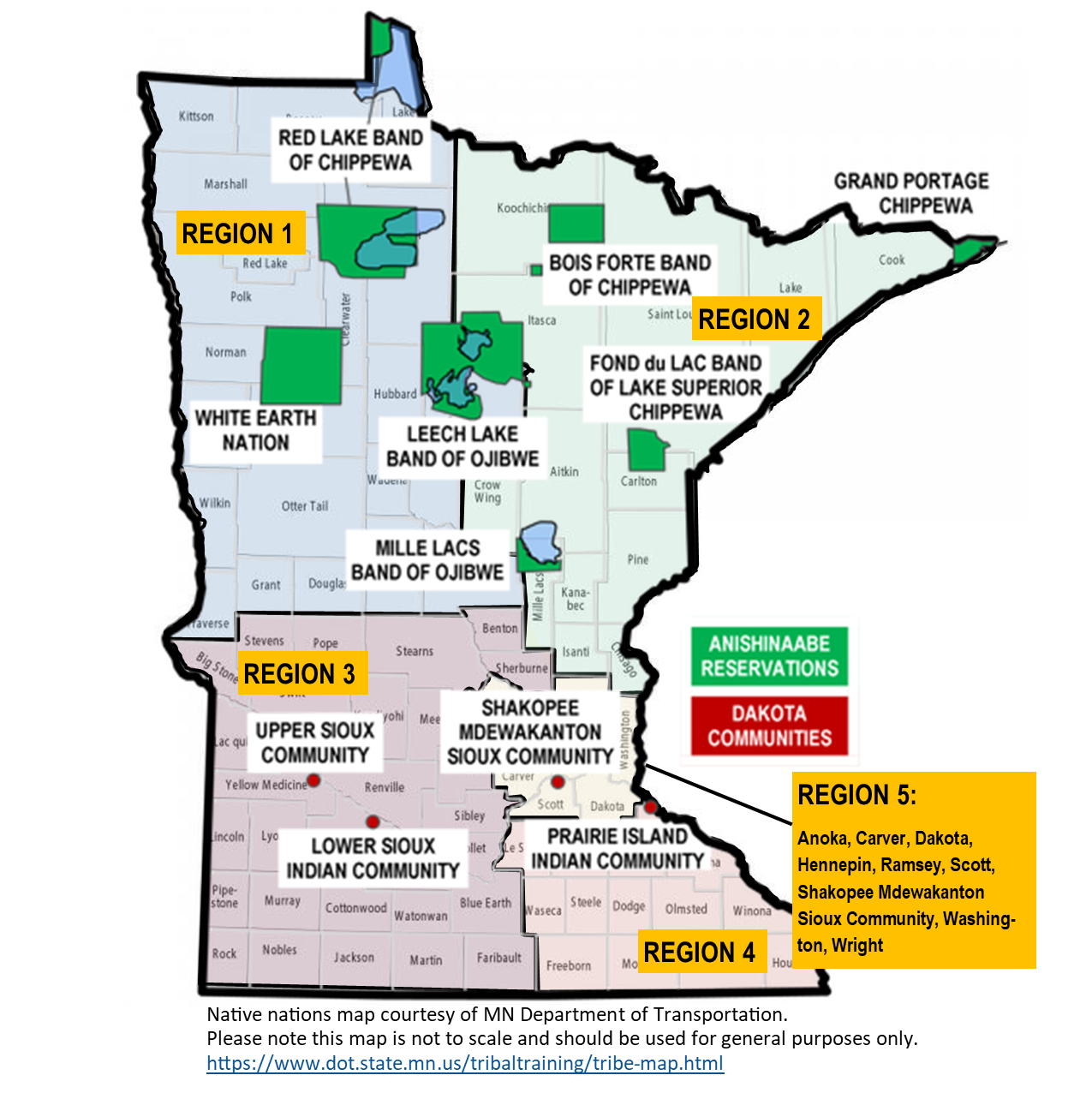 The E1MN shared vision 
The E1MN partnership will align our systems so that common customers who receive home and community-based service (HCBS) disability waivers and vocational rehabilitation services from DEED-VRS or SSB get seamless and timely supports to make informed choices and meet competitive integrated employment goals. By attending the series of regional meetings, you will: 
Make connections with professionals from other agencies in your region and better understand the unique roles that you play

 

Have a forum for sharing and learning what's working well with collaboration across agencies, and discuss how you can best collaborate with others in your area

Set up a structure for addressing issues specific to your region

Develop a shared understanding of E1MN processes as you ask questions of each other and the E1MN policy team

 
If you have questions about the regional events, contact Amy Cyr at amyc@theimprovegroup.com or 651-447-5543.